The following is a brief biography on the life of J. H. Darr written by my Great Uncle, Arthur Temple Paul. It seems to be an overview that was written for the Masons.
Transcribed by
Ronald P. Evans (great great grandson of Mr. Darr)
June 29, 1997

---
James H. Darr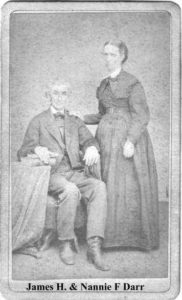 The Father and Grandfather's name of our subject was John. His Grandmother's name on his Father's side was Mary Franklin third daughter of Nathan Franklin and a niece of Benj. Franklin.
His Mother's maiden name was Elen Dick of Jefferson Co., Tenn. All Dicks came from Va. She was a daughter of Henry Dick. The Darrs were of Irish decent. The Dicks were Scotch-Irish decent.
James H. Darr was born near Philadelphia Tenn. In Babyhood moved to Jackson Tenn. where he lived until the death of his Father which occurred near Memphis, Tenn during the cholera epidemic of 1836.
Our subject then returned to East Tenn. settled and lived for a time near New Market Tenn. Then moved to Mossy Creek Tenn. where he remained until manhood. He left home and spent two years in Florida.
In 1851 he married Miss N.J. Bradshaw of Jefferson Co., Tenn. He moved to Charleston Tenn. in 1856. To this union were borned seven children. Five girls and two boys names as follows: Sallie – Newell – Etta – Kate – Virginia – William – and Henry. His first wife died in 1875. In 1878 he married Miss N.F. Crawford of Sullivan Co., Tenn. To this union were borned two girls – names: Mollie and Nellie.
Before the Civil war he sold goods at Benton Tenn. He became a salesman for Alexander & McKamy in Charleston Tenn. On 1863 he enlisted in Co. I. 43rd Confederate Cavalry and served until the close of the war.
He became a salesman for J. M. Knox and remained in this firms service for 23 yrs. When the firm sold out, he continued with Palmer Bros.
James H. Darr became a member of the Presbyterian Church in 1852.
He was a Master Mason and received his third degree in 1857 at Hiawassee Lodge No 188 in Calhoun Tennessee.  He was later one of the Charter members of Charleston Tennessee, Lodge No. 484.  He served as Secretary for both Charleston and Hiawassee Lodge.
A.T. Paul (?????) 110 Clifford 25476
Note: Details of his masonic degree were adapted from a similar overview compiled for his son, William Kenny Darr and his descendants.
---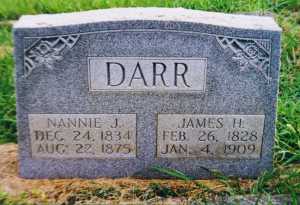 James H. & Nannie J. Darr's Tombstone
at the Presbyterian Church in Charleston TN.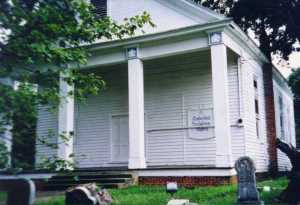 Presbyterian Church in Charleston TN.